Curriculum
Please click on the required class name for termly curriculum information for each year group.
For information regarding "Early Learning Goals" for EYFS, please click on the Reception class link.
For end of year assessment information for Maths and Reading and Writing please refer to the documents listed below.
For Nursery Curriculum information, please click here
Please direct any questions you may have regarding the curriculum that we follow via the school office on tel. 01932 842617 or by eMail info@stcharlesb.surrey.sch.uk
If you would like a printed copy of these or any other document from our website, please contact the school office on tel. 01932 842617 or by eMail info@stcharlesb.surrey.sch.uk
At present, the school children are divided by age, into seven teaching groups. The maximum permitted class size in Key Stage 1 (KS1) is 30 children for one teacher. The school is well equipped and each child works with books and materials most suitable for them. The children are encouraged to work both independently and in groups. The core curriculum subjects are English, Mathematics, Science, Computing and Religious Education. The foundation subjects are Design & Technology, History, Geography, Music, Art, Physical Education and Education in Personal Relationships (E.P.R). In Years 5 and 6, children also learn French.
Our results for Teacher Assessment at 7 years (end of KS1) and for National Statutory Assessment Tests (SATs) taken at 11 years (end of KS2) are included in the school prospectus.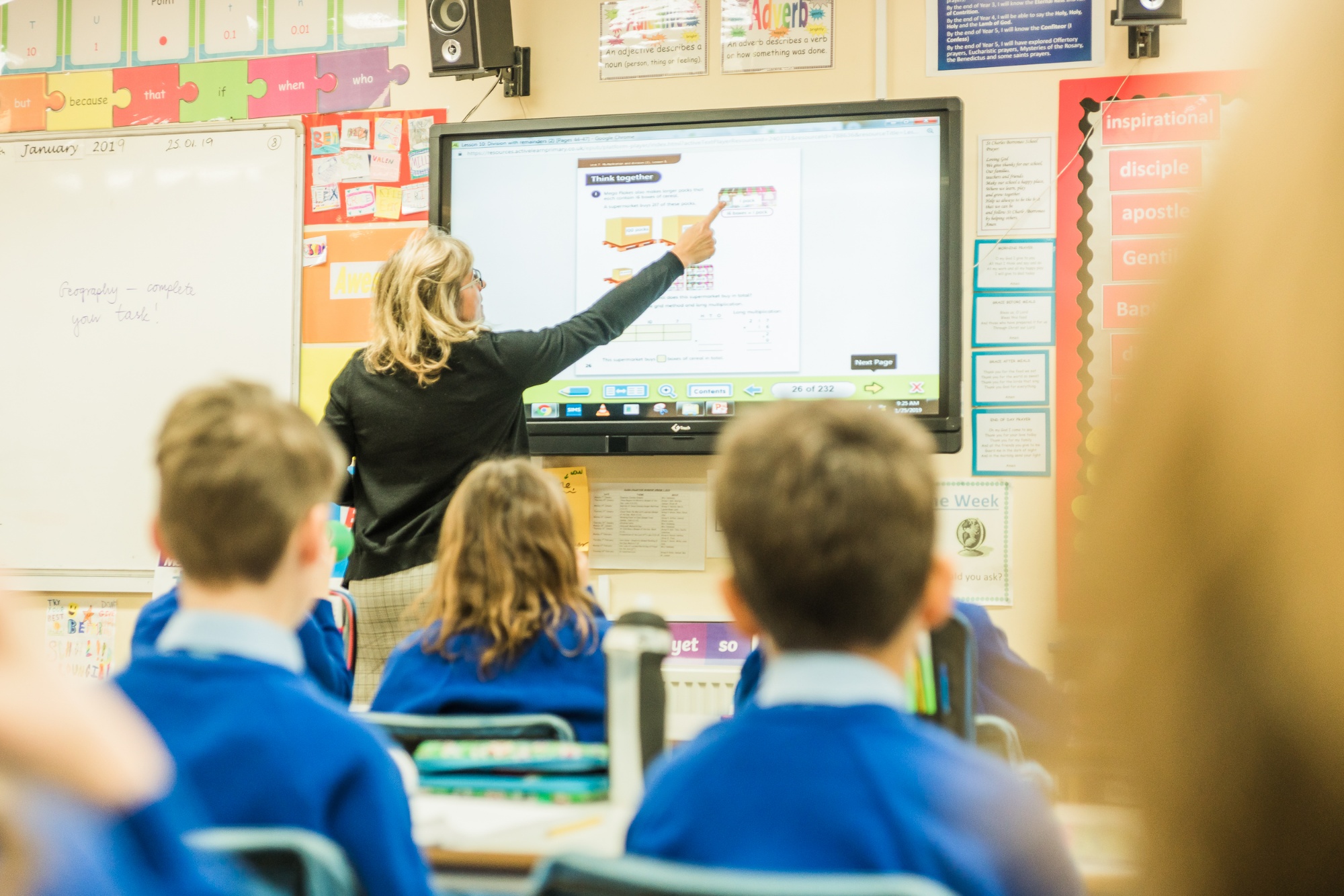 Fr. Con Foley is our School Chaplain. On special occasions the whole school celebrates Mass together in the Parish Church. Parents and friends are welcome to join us at Mass and for other special celebrations, including some of the Assemblies. The children are taught a number of prayers throughout their time at St Charles. At the front of the school prospectus is a copy of our School Prayer.
In an ever changing world, we believe in the importance of teaching our pupils set core values explicitly. Every month a different value is introduced to the children. Our core values are:
| | | | |
| --- | --- | --- | --- |
| Respect | Belonging | Happiness | Friendship |
| Unity | Freedom | Love | Peace |
| Hope | Honesty | Trust | Simplicity |
| Thoughtfulness | Understanding | Appreciation | Compassion |
| Quality | Confidence | Fairness | Co-operation |
| Courage | Responsibility | | |